This years' Innovation day in Munich (15th December) reinforced, to me anyway, Siemens' increasing focus on (industrial) things digital. Siemens' digital revenues are now at €5.2Bn, and growth rates of 20% in software and services reflects the success (first documented in 2014) of their 2020 vision. Importantly, digital investments (including more than $10Bn software acquisitions over the past 10 years) are showing good return. Siemens PLM Software, being one case in point; CEO Joe Kaeser brags of 29 of the top 30 Automakers using their PLM software, not to mention the fact that Siemens can honestly admit being a company that (successfully) eats their own (digital/PLM/MES/IIoT) dogfood.
Top of the list for Siemens' R&D investments are analytics and AI, additive manufacturing, materials, simulation, digital twin and power electronics. Siemens' Digital Factory business, Healthineers and Power & Gas is are the top 3 spend categories for R&D, which is expected to grow to an impressive €5.6Bn next year, up 40% from 2014.
Siemens, is well known for their ambitions and successes in areas of the 'digital twin'. Their solutions that digitally forge the model are well established and include design (mechanical, electrical/electronic and software i.e. CAD,EDA,ALM), simulation (CAE), digital production (MES/MOM) and manufacturing (CAM), and, of course product lifecycle management (PLM).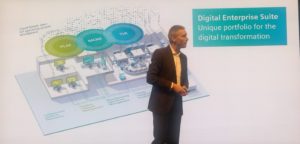 What's interesting and noted from this year's digital discussion was the increased prominence of the MindSphere platform. MindSphere, Siemens' 'Cloud based IoT operating system', is the platform that ties together digital threads of design, virtual and actual production (and automation) and products in-use. Huge investments in this product and its ecosystem recently, with a major announcement in late November regarding Amazon (AWS) and rumours of one early next year with regards Microsoft (Azure IoT).
Siemens have had a degree of serendipity in areas IIoT/IoT (in my opinion). While not necessarily a first IoT mover, they're a noted instigator and supporter of Industrie 4.0 and in areas of IIoT. Their strategy to focus initially on more practical, production oriented strategies for IIoT has avoided some pitfalls and hurdles that others are/might-be/may-yet-be facing in the IIoT/IoT market. Good news for them. Less so for their competitors….
Underlying their IIoT/IoT strategy is their remit on openness. That's reflected, in part, by their public statements at this event by senior management, a keenness to partner with the likes of Amazon, IBM, SAP and Microsoft, and their public acceptance of the real-world situation of heterogeneity. Clearly, it will be interesting to observe how Siemens' scales and broadens the touch of MindSphere, not only to their enterprise customers, but, in due course to SME patrons; those clients that are dealt with today via digital channels, sales and service partners and other third-party networks.
On a final note, on Thursday afternoon (before the Innovation day) we had an opportunity to talk on topics including those of (continuous) simulation, AI and machine learning. Hosted by Siemens' research organisation, notably Norbert Gaus, their head of R&D in Digitalization and Automation. Their discussions included the importance of domain context and expert (domain) knowledge in the context of Industrial AI. The resultant 'Augmented Intelligence' based in part on Knowledge Graph technologies has significant R&D focus, supported by collaborations with other research, educational and commercial partners. No doubt we'll see the fruits of these efforts in production software as time moves on.