I've just returned from Hannover (Germany) having spent two days at the world's largest industrial fair. For those unacquainted with Hannover Messe, this is a mammoth fair (trade show) with over 5,200 exhibitors. These aren't just German companies. According to the organisers' press release, overseas accounted for about 58% of the exhibitors. 465 of these from the US, this year's partner country, and (not surprisingly?) about 650 from China.
While much of the show was in somewhat of a holding pattern on the first half day, (due to visiting dignitaries President Obama and Chancellor Merkel), I took time to attend a Siemens US-centric (customer and) press briefing. Interestingly, and according to Siemens, much of the existing US manufacturing base has 35-Year-old+ assets, 27% of the workforce will be eligible to retire in 2025, and it's a laggard in digital maturity. While some may consider these somewhat depressing research points, I'd suggest these offer significant prospects for innovative suppliers, and an opportunity to increase US manufacturing productivity.
Given that I was only at the show for two days, I had barely enough time to scratch the surface on exhibitors. My time was spent in 'Digital Factory' halls, 6,7 and 8 whose focus was predominantly on Industrie 4.0 (also known as 'Industry 4.0'), IoT, and IT solutions for the manufacturing industry.
Siemens being one of the largest (German based) companies in areas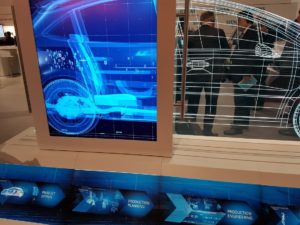 of electrification, automation and digitalisation, had multiple stands. I visited three. One, the corporate, another for Siemens PLM, and an off-site demonstration area for their MES (Manufacturing Execution Systems) solutions. Their main stand's focus was particularly well thought out; presenting eloquent stories of virtual design and manufacturing workflows through manufacture and test; the only demonstration I saw that covered most domains (and aspirations) of the digital (Industrie 4.0 based) manufacturing enterprise.
Although Industrie 4.0 logos and demonstrations were flavour of the day, in the Digital Factory halls the IoT acronym was as, if not more, prominent. Intel, for one, had a large stand for IoT partners, and IBM highlighted their Watson IoT and Bluemix platforms. In fact, IBM were noticeable not only through their stand presence, but via the many IBM logos and demonstrations on numerous partner and ecosystem stands. The likes of SAP (one of the largest and busiest exhibits), HP, Dell, Accenture and Atos were also high profile, and I was intrigued to see the likes of Huawei displaying their IoT connectivity solutions, so too the likes of AT&T.
Amongst the most interesting IoT flavoured stands were those of Microsoft and Bosch.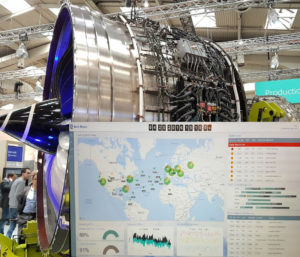 Microsoft's partner-centric Azure IoT/Cortana presence was made more prominent by the immense Rolls Royce Trent XWB engine on stand. Rolls Royce demonstrated a software evolution of their well-known TotalCare service package which, in this case, leveraged Microsoft's Azure IoT and Cortana analytics to support advanced (predictive) MRO capabilities. One of the most comprehensive demonstrations and examples of IoT/MRO value I've seen to date.
Some might naïvely think of Bosch as simply in industrial products, automotive components and building products (f/e white goods and power tools). Not so. This 375,000 employee company is very much into other areas…including, now, the IoT. And IoT is not simply seen by Bosch as a means to deliver value to their products and manufacturing capabilities, (their CEO has mandated that ALL Bosch products be connected by the year 2020,) but also to deliver IoT platform and (Cloud) services to a much broader audience. Competing with the likes of IBM, Microsoft, Amazon and like. Very interesting!
Regarding the Engineering Software community. Siemens PLM and Dassault Systems had large neighbouring stands, highlighting both software workflows and partner solutions. Autodesk's stand centred on their Future of Making Things (FOMT) strategy with some key reseller partners, but they didn't have SeeControl on show. While I understand that their SeeControl IoT solution is currently not focused on the German market, I'd suggest this was an opportunity lost in gauging appetite for their investments in connected technologies in the (German) market.
Apologies to those I missed during my excursions. In summary: A valuable opportunity to gauge sentiment and direction for those world class and aspiring in today's manufacturing ecosystem.